Press Releases & Announcements
July
2019
11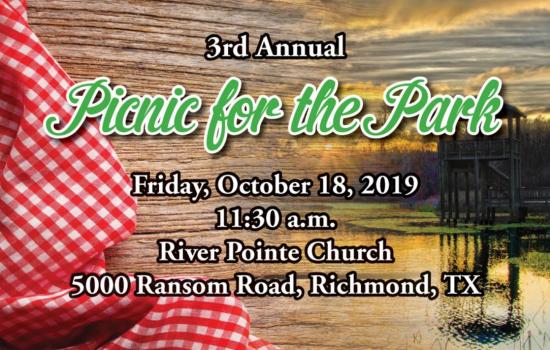 Tickets on Sale for Picnic for the Park
Take a peek into the world of leading museum director Joel Bartsch, president and chief executive officer of the Houston Museum of Natural Science, as he shares stories of his travels around the globe to pursue his passions of gems and collecting during the 3rd annual Cullinan Park Conservancy Picnic for the Park.
The fundraiser is set for 11:30 a.m. to 1 p.m. Friday, Oct. 18, at River Pointe Church, 5000 Ransom Road.
Also during Picnic for the Park, winners of the annual Cullinan Park Conservancy Photo Contest will be announced.
Tickets are on sale now for $50-$75 and can be purchased online at https://www.cullinanparkconservancy.org/Picnic. Sponsorships starting at $1,000 also are available.
Proceeds will go toward improvements for the 754-acre Joseph S. and Lucie H. Cullinan Park located minutes from Imperial. Late last year, the conservancy was able to break ground on Phase 1 improvements, including a permanent restroom, a new trail, two new trailheads, a boardwalk, lake overlook, interpretive signage, landscape improvements, understory clearing and additional benches.