Press Releases & Announcements
September
2016
12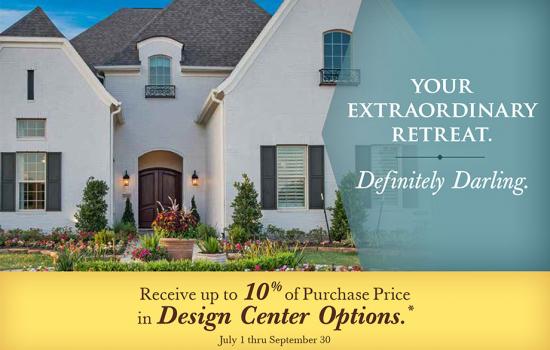 Builders Offer Design Center Incentives in September
Homebuyers will be able to equip their new homes with everything they need to live the sweet life with September incentives offering extra savings on upgrades and options at the design center.
The kids may be back at school, but that doesn't mean summer is at an end. Meritage Homes is encouraging prospective buyers to "Seize the Summer" with an upgrade allowance. Customers who purchase a design from the builder's Metropolitan Collection will receive a $35,000 credit toward options and upgrades at the design center. Buyers also can enter to win a beach bag filled with summer goodies when they stop by any of Meritage's four model homes within Imperial.
Houston-area essential community service providers benefit from incentives two builders are offering to recognize the outstanding work they do. Partners in Building will gift doctors with $25,000 in design credit on top of any incentive the builder is currently offering in Imperial from now until September 30.
All medical professionals plus active and retired military, educators, firefighters and police officers can receive $1,000 to use at Darling Home's design gallery through the builder's Public Service Awards program. The incentive also can be used for a purchase price reduction on eligible homes. The program ends Dec. 31.
The offer can be used in conjunction with another Darling promotion that awards all buyers with design gallery credit in the amount of 10 percent of the base purchase price of their new homes through Sept. 30.
Finally, buyers can "Steal a Deal" on move-in ready homes that already incorporate a number of options and upgrades from Gracepoint Homes. The builder has reduced prices on several of its luxury brownstones in Imperial. Prices are only good until the end of the month.
Imperial is an urban-inspired community featuring upscale homes, winding paths and easy access to the best Sugar Land has to offer. In addition to a comfortable home, residents will soon be able to stroll to award-winning restaurants and cozy wine bars when Imperial Market, a mixed-use lifestyle development, opens in 2017.
For more information, about these incentives click here.