Press Releases & Announcements
March
2016
29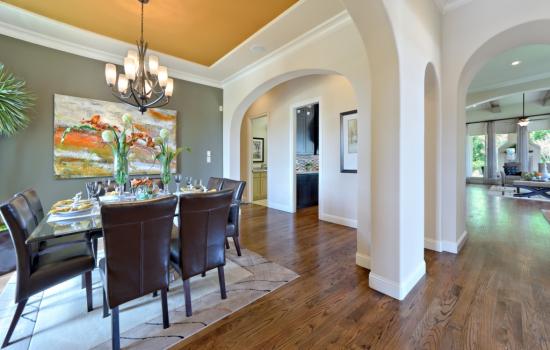 Discover Imperial During Houston's Largest Home Tour
The public is invited to tour Imperial's model homes and participate in an event featuring gourmet fare and fine wines during Houston's Largest Home Tour in April.
The annual event, sponsored by Imperial developer Johnson Development Corp., opens the doors to hundreds of homes, including 120 models throughout the Houston metropolitan area. Events throughout the month of April will highlight each community's unique personality and lifestyle.
Imperial's eight well-appointed model homes — including patio homes, townhomes, brownstones executive homes and luxury homes — will be open for touring 10 a.m. to 6 p.m. Mondays through Saturdays and noon to 6 p.m.
Additionally, the community is hosting the annual Sip & Stroll, a popular event of the Sugar Land Wine & Food Affair, from 1-4 p.m. Saturday, April 9, at Constellation Field, 1 Stadium Drive in Sugar Land. The on-site baseball park is just a short walk or bike ride from Imperial's luxury homes. Attendees will be treated to fine food and excellent vintages, as well as opportunities to meet star chefs. A new outdoor beer garden will offer more than 100 brews from 25 different breweries. Tickets are available at sugarlandwineandfoodaffair.com.
Imperial is a 700-acre development surrounding the historic Imperial Sugar Company refinery in Sugar Land. Other master-planned communities featured in the home tour are Riverstone, Veranda, Harvest Green and Sienna Plantation in Fort Bend County; Jordan Ranch, Cross Creek Ranch and Willow Creek Farms in Fulshear/Katy; Tuscan Lakes and Edgewater in the Bay Area; Fall Creek in northeast Houston; and Harmony, Woodforest and Grand Central Park in South Montgomery County. For more information about the home tour, visit www.houstonhometour.com.