Press Releases & Announcements
November
2014
24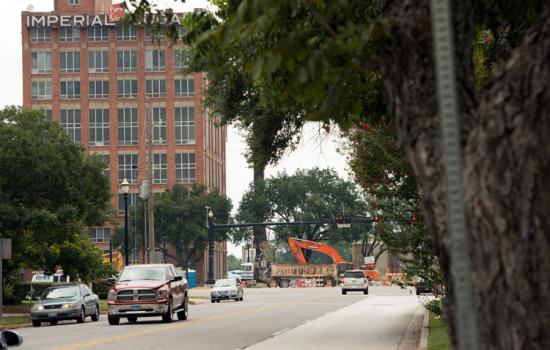 The Changing Face of North Sugar Land
After closing its doors in 2003, the redevelopment of the former Imperial Sugar refinery site has been in the works for some time.
Progress is finally being made with the culmination of several projects.
Johnson Development is finalizing the infrastructure of the 27-acre refinery site. Parts of this land could soon be sold to companies who specialize in vertical property planning.
The 3-bay container warehouse will be repurposed for the Fort Bend Children's Discovery Center and the Sugar Land Heritage Foundation Museum in May 2016. Dennis Parmer, executive director of the Sugar Land Heritage Foundation, indicated that a possible name change could take place for the foundation to be more inclusive.
"We want to look for a name that's true to our history, but reflective of the many influences since the 1800s," Parmer said.
The double tracking by Union Pacific Railroad from Ulrich to Gessner on Highway 90A will change the landscape and mobility when complete. With University Boulevard nearing completion, and the added train crossing at U.S. 90A, the City of Sugar Land must make two closures. The entrance to Nalco will close, but the second closure hasn't been decided yet. The choice is between Wood St. or Brooks St.
However, plans are in place to continue Brooks St. past the Char house and connect to Imperial Blvd.
With the merger of Nalco Champion and Ecolab, a new headquarters will be constructed on an adjacent property of Nalco. The completion date for the 133,000-square foot, four story building is scheduled for late 2015. Employees currently working at the Houston and Fresno locations will relocate to this new site, bringing 1,000 employees to the area.
The water tower is currently undergoing a facelift to restore and repaint the iconic structure with earth tones and the 1843 Imperial logo. Weather has been the driving force for the renovations and the unveiling date has not yet been announced. "The restoration of the water tower is a vital part of maintaining the heritage of Sugar Land," says Dennis Parmer.
And finally, the City of Sugar Land has a new and improved park in development for the Mayfield Park subdivision situated behind the refinery site at Ulrich and Avenue D. The 4-acre park will include a new basketball court, playground equipment, walking trail, and picnic areas. This project is set to begin in summer/fall 2015.
For the original article, click here.