Press Releases & Announcements
July
2014
02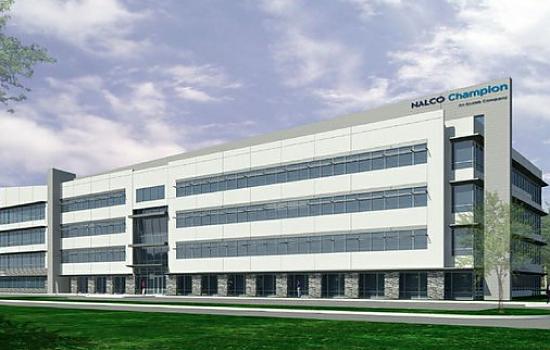 City Council approves incentive package for Nalco Champion headquarters
Nalco Champion, an Ecolab Company, is expanding its presence in Sugar Land after approval of a tax incentive agreement Tuesday by City Council and the Sugar Land Development Corporation. The company plans to centralize its headquarters in Sugar Land and modify its existing facility to accommodate future growth.
Nalco Champion—a special chemistry program that assists with oil and gas operations—plans to build its new 133,500-square-foot headquarters on the west side of its existing facility at 7701 Hwy. 90, Sugar Land, on a portion of an 18.5-acre swath of land purchased from Johnson Development in the Imperial development in 2013. The project is slated for completion in early 2016.
"Nalco Champion is proud of its long history in Sugar Land and all that the city offers," Steve Taylor, executive vice president and president of Nalco Champion said. "We very much look forward to making Sugar Land our home for Nalco Champion and are ecstatic to have the opportunity to welcome so many new employees to this incredible community."
The incentive package—developed by the city's Office of Economic Development— secures the expansion of the current Nalco Champion's office and research and development operation in Sugar Land. Once completed, the expansion will bring more than $45 million in capital investments and more than 860 new jobs to the area, including the relocation of about 250 jobs that were moved from Sugar Land to Houston.
For the original article, click here.