Press Releases & Announcements
September
2019
09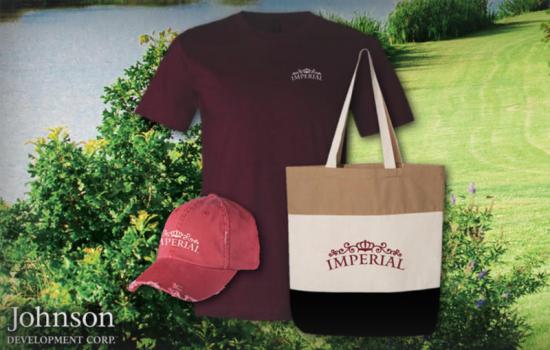 We've Got Some Sweet Gear For You
Living in Imperial is sweet. Living in Imperial and stocking up on all of the fun Imperial gear you can find when you shop our new online store is even sweeter.
If you haven't had a chance to browse, it's like being a kid in a candy shop. We've stocked our store with clothes, hats and must have items like tote bags, towels and water bottles — all sporting the Imperial logo.
An item we really love is the awesome canvas tote that's perfect for shopping the local farmers market. The sleek Danville Duffel can hold all of your clothes for those times you want to take a staycation in beautiful Sugar Land.
Want to be well dressed? Shop our apparel section. Women will love our rhinestone cage t-shirt. Pair it with jeans or leggings and you've got the perfect outfit to wear to a concert at the Smart Financial Centre. Men will look stylish in one of our Under Armor polo shirts.
We've even got leashes for dogs and adventuring gear for the kids.
Don't delay, pick up some of our gear today! You don't have to be a resident to purchase, but if you decide to make the move to Imperial, don't forget to pick up a set of our beautiful "we've moved" postcards.