Press Releases & Announcements
December
2017
08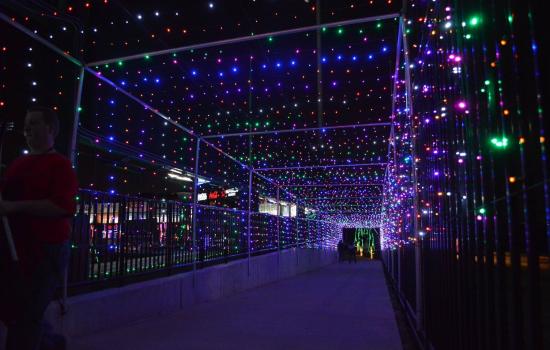 Holiday Nights, Sparkling Lights
'Tis the season for eggnog, gingerbread and the return of 2.5 million sparkling holiday lights to Constellation Field in Imperial!
For the fourth straight year, Sugar Land Holiday Lights will light up the home turf of the Sugar Land Skeeters. Through Jan.1, the ball park will be lit up with more than 100 displays in eight themed areas. Displays feature an illuminated Texas flag and Texas' largest inflatable snow globe. This year also features a number of exciting additions, including a carnival outside the ballpark, new theme nights and more. Santa Claus will also be available each night through Dec. 23, along with a variety of food trucks and children's activities.
Everything takes place at Constellation Field, 1 Stadium Drive, from 6-9 p.m. Sundays through Thursdays and 6 -10 p.m. Fridays, Saturdays, Christmas Eve, Christmas, New Year's Eve and New Year's Day.
Tickets are $14 for adults, $12 for kids ages 4-13, $12 for seniors and military, $10 for groups (10+), and free for kids 3 and under.
Imperial residents live within walking and biking distance of Constellation Field, which means they can easily take in the lights any day of the week. In addition, they enjoy shopping at the weekly Imperial Farmers Market and will soon enjoy restaurants and shopping in their own backyard when Imperial Market, a multi-use lifestyle center, is complete.