Press Releases & Announcements
September
2014
03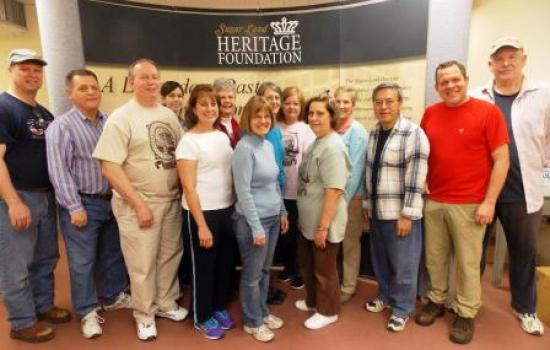 Could you tell us anything about what will be in the SLHF permanent museum?
It's a little early to answer that question in too much detail but I can share the current plans. OK, before I go too far in writing this article, here comes the disclaimer! Listed below is the preliminary storyline that the SLHF Board of Directors and Jack Rouse Associates, our museum consultants, have been discussing. The amount of space, type of display, and subsequent budget requirements to portray each of these eras in the museum is yet to be determined. The eras may be subdivided into small units or chapters to portray persons, events, etc., that significantly contributed to that era. For example, under the "Company Town Era, 1908 - 1959", SLHF will want to include lots of information on I. H. Kempner and W. T. Eldridge, founding fathers of the company town. A very important factor will be the cost of the display itself. The cost of a static display versus the cost of an interactive display can be the difference of hundreds of dollars per square foot. Another factor will be the on-going cost of operation/maintenance of the various displays. Sorry for the LONG disclaimer, but you can see there are many decisions to be made regarding the future content of the museum.
The proposed storyline has the following eras with a date range associated with it, and there may be some overlapping between eras. The eras and dates are representations and subject to revision. Regardless, they give a good indication of what is being considered.
The Prehistoric/Indigenous Indians Era, Beginning - 1821
The Stephen F. Austin/Old 300 Families Era, 1821 - 1836
The Plantation Era, 1836 - 1908
The Company Town Era, 1908 - 1959
Sugar Land, the Incorporated City, 1959 - Present
SLHF is in the process of accessioning thousands of documents, pictures, etc, into our collection. With that volume, it is realistic to say:
Not all of these artifacts are displayable in the near future.
There will be a concentration of artifacts in the Sugar Land, the Incorporated City era.
As we go farther and farther back in time, we will have fewer artifacts from each era.
Being proactive, I would like to appeal to each of you to check your closets, garages, attics (I would also say basements but it is my understanding that there are very few basements around here!), under the bed, etc., for items that you think would fit into one of these eras. If you find something, please contact SLHF and let's discuss your donation of the item(s) to SLHF. You may have an item that could be instrumental in a future museum display. Please contact us by phone at 281-494-0261 or by e-mail to Chris Bohannan at cbohannan@hotmail.com or Chuck Kelly at chkelly77478@windstream.net or Dennis Parmer at dparmer@slheritage.org.
In the interim, SLHF is actively displaying our history and heritage by opening our temporary museum on Saturdays from 9 am until 1 pm. Please come by and see us. We have a number of artifacts on display, videos you can watch and some great maps. And we have trained volunteers to answer your questions.
Speaking of our volunteers, they inspire community pride with their respective efforts!!! They are a great group of folks, who range in age/stage of life from high school students to senior citizens. Come join us as SLHF goes forward to build a permanent museum.
To become a volunteer, contact Carolyn Gilligan, SLHF Volunteer Coordinator, at cgilligan@slheritage.org or Colleen McGlocklin at cmcglocklin@slheritage.org.
To find out more about SLHF, visit our website at www.slheritage.org